Fashion Network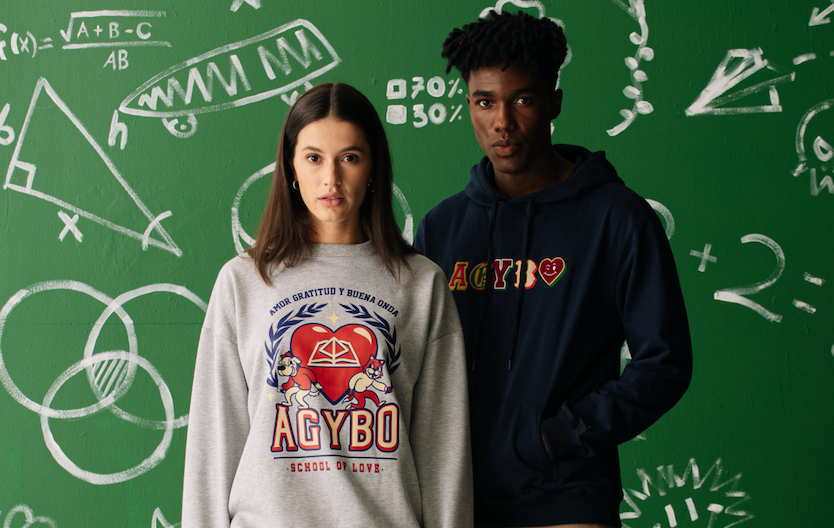 Agybo, la enseña de los artistas colombianos Juanes y Fonseca, presenta su tercera entrega de moda constituida de seis piezas a la que se denominó School of love. La colección presentada al mercado esta semana se encuentra disponible en la tienda en línea de la marca y los puntos de contacto digital. 
Un hoodie, una chaqueta, dos camisetas, una gorra de béisbol y un totebag componen esta entrega que busca tocar las fibras y los sentimientos de sus clientes, con una fusión de nostalgia y moda. Cada pieza tiene un diseño único hecho a mano, que se inspira de los uniformes escolares, bajo la lupa del ADN de la marca. 

"Queremos que esta colección te lleve atrás en el tiempo. Nos inspiramos en The Breakfast Club, Ferris Bueller y canciones como Don't Go Breaking my Heart" dijo Martín Fonseca, director de Agybo.
"Entendemos el propósito de nuestra marca y queremos continuar haciendo un impacto, mientras mantenemos nuestro ADN y nos conservamos dentro de los valores y mensaje de la marca", concluyó Fonseca. 

Agybo significa "Amor, Gratitud y Buena Onda" y, como su nombre lo indica, es una enseña que se construyó en torno a estos valores a principios de 2021, cuando presentó su primera colección. A finales del año, la enseña presentó una cápsula especial de athleisure firmada por Karen Martinez, una de las cofundadoras de la marca. 

Agybo trabaja de la mano de O2 Reserve, la empresa dedicada a la administración, conservación y protección del bosque húmedo tropical, inicialmente ubicado en el Magdalena Medio colombiano. Con esta alianza, la marca se compromete a donar un metro cuadrado de bosque tropical por cada producto vendido.